>> Lainhart EPK
Find Richard on these web sites:
>> vimeo
>> YouTube
>> bandcamp
>> SoundCloud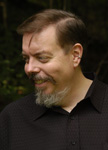 Richard Lainhart (rlainhart@otownmedia.com) was an award-winning composer, author, and filmmaker - a digital artisan who worked with sonic and visual data. Since childhood, he was interested in natural processes such as waves, flames and clouds, in harmonics and harmony, and in creative interactions with machines, using them as compositional methods to present sounds and images that are as beautiful as he could make them. 

Lainhart studied composition and electronic music with Joel Chadabe at the State University of New York at Albany. He composed music for film, television, CD-ROMs, interactive applications, and the Web. His compositions have been performed in the US, England, Sweden, Germany, Australia, and Japan. Recordings of his music have appeared on the Periodic Music, Vacant Lot, XI Records, Airglow Music, Tobira Records, Field Studies, Infrequency, VICMOD, and ExOvo labels. As an active performer, Lainhart appeared in public approximately 2000 times. Besides performing his own work, he worked and performed with John Cage, David Tudor, Steve Reich, Phill Niblock, David Berhman, and Jordan Rudess, among many others. He composed over 150 electronic and acoustic works. In 2008, he was commissioned by the Electronic Music Foundation to contribute a work to New York Soundscape

Lainhart's animations and short films have been shown at festivals in the US, the UK, Canada, France, Spain, Germany, and Korea, and online at ResFest, The New Venue, The Bitscreen, and Streaming Cinema 2.0. His film "A Haiku Setting" won awards in several categories at the 2002 International Festival of Cinema and Technology in Toronto. In 2009, he was awarded a Film & Media grant by the New York State Council on the Arts for "No Other Time", a full-length intermedia performance designed for a large reverberant space, combining live analog electronics with four-channel playback, and high-definition computer-animated film projection.

You can find examples of his music and digital artworks on this website. Some of his short films are available at http://www.vimeo.com/rlainhart.  Samples of his demo and training videos are available at http://www.youtube.com/rlainhart.