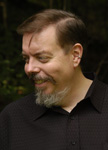 Richard Lainhart is an award-winning composer, performer, and filmmaker based in New York. He studied composition and electronic music techniques with Joel Chadabe, a pioneer of electronic music and the designer of the Coordinated Electronic Music System (http://www.otownmedia.com/chadabe.jpg), at one time the largest integrated Moog synthesizer system in the world. From 1987-1990, Lainhart was the Technical Director for Intelligent Music, developers of innovative computer music software like M, Jam Factory, and UpBeat.

His compositions have been performed in the US, England, Sweden, Germany, Australia, and Japan. Recordings of his music have appeared on the Periodic Music, Vacant Lot, XI Records, ExOvo and Airglow Music labels and are distributed online via MusicZeit. As an active performer, Lainhart has appeared in public approximately 2000 times. Besides performing his own work, he has worked and performed with John Cage, David Tudor, Steve Reich, Phill Niblock, David Berhman, and Jordan Rudess, among many others. He has composed over 100 electronic and acoustic works, and has been making music for forty years. In 2008, he was commissioned by the Electronic Music Foundation to contribute a work to the New York Soundscape concert series. 

Lainhart's animations and short films have been shown in festivals in the US, Canada, Germany, and Korea, and online at ResFest, The New Venue, The Bitscreen, and Streaming Cinema 2.0. His film "A Haiku Setting" won awards in several categories at the 2002 International Festival of Cinema and Technology in Toronto. In 2008, he was awarded a Film & Media grant by the New York State Council on the Arts for "No Other Time", full-length intermedia performance designed for a large reverberant space, combining live analog electronics with four-channel playback, and high-definition computer-animated film projection, to be premiered at Re:Soundings (http://www.resoundings.net/) in Valley Falls, NY in June 2009.

Since childhood, he's been interested in natural processes like waves, flames and clouds, in harmonics and harmony, and in creative interactions with machines, using them as compositional methods to present sounds that are as beautiful as he can make them. 
---
Music downloads with previews: http://www.downloadplatform.com/richard_lainhart
---
HD films: http://www.vimeo.com/rlainhart
---
Performance and demo videos: http://www.youtube.com/rlainhart
---
Recent & Upcoming Peformances:
---
November 16, 2 p.m., Live Internet Radio Broadcast - Rando Radio.
Sonic improvisations with Jordan Rudess, Mini Moog, synths, Buchla 200e and the Haken Continuum Fingerboard. Slideshow at
flickr
October 16, 8 p.m., Judson Memorial Church, New York, NY.
A performance by Richard Lainhart of his EMF-commissioned work "Threshold", for Kyma and electric guitar, as part of the New York Soundscape series.
---
Review Excerpts:
---
Other Music (2008)
""White Night" proceeds slowly, with carefully modulated sine waves and shifting tones interacting subtly across four tracks like a tempered music of the spheres. ... perfectly ambient, a long, deep, thirty-minute exhalation of breath. A very beautiful release that seems totally modern... that I can't recommend highly enough. "
Peter Marsh, BBC (2002)
"He's evolved a singular vision as a composer, performer and engineer of darkly seductive minimalism... Rewarding, engaging music that's worth your time."
Gramophone, The Classical Music Magazine (2001)
"From the earliest... to the most recent.. these pieces all unfold from what appears to be the same deep, interior landscape. Curiously elusive but distinctly 'real' music."
The Wharton Journal (1990)
"The title track (These Last Days) is entrancing.... The music is ethereal, and his juxtaposition of drum sounds and bell-like tones is hypnotic. At the stunning conclusion of the piece, the sounds metamorphose from metallic ringing to soft sustained tones, echoing as they slowly fade out...."
Kyle Gann, The Village Voice (1989)
"Soft chords formed a suspended background for loud attacks that took an eternity to die away, and the aptly titled "Ten Thousand Shades of Blue" diminuendoed into ambiguously bittersweet dissonance... The Russian and Italian Futurists of the 1920s would have given their right hands to produce sonatas such as this, and had they seen Lainhart achieve his results with only the tiniest of finger movements, they would have dropped dead from envy."
Keyboard Magazine (1987)
"Alternately using synthesizer and vibes, Lainhart sustains and amplifies a profoundly tranquil ambience form start to finish."
Gregory Sandow, The Village Voice (1981)
"[Lainhart maintained a tone of quiet warmth and even reverence throughout.... (The pieces) seemed to grow more peaceful and profound as they went on, and justified titles like "Bronze Cloud Disk" and "Cities Of Light", which seemed to evoke feelings that can't quite be named, and suggest music I might rather imagine for myself in silence than trust most composers to compose."
---
Photos:
---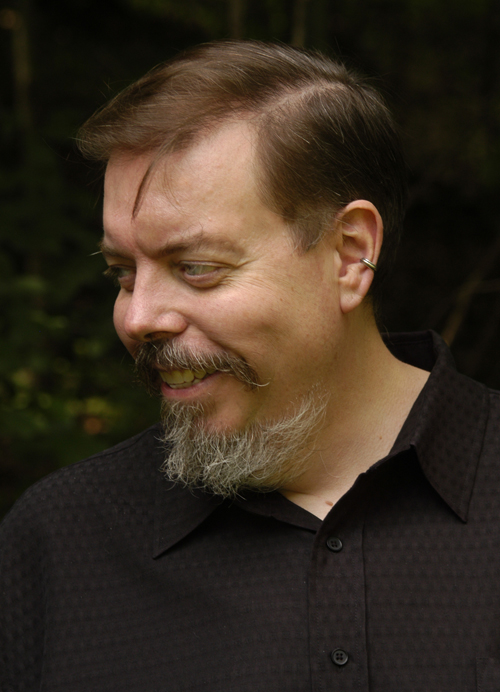 Richard Lainhart
Screen Res
Print Res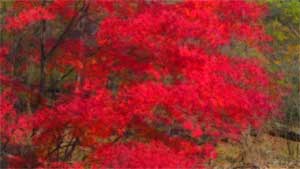 "One Year" A short film at T-minus 2008
Galapagos Art Space, Brooklyn, NY -- November 2008
Screen Res
Print Res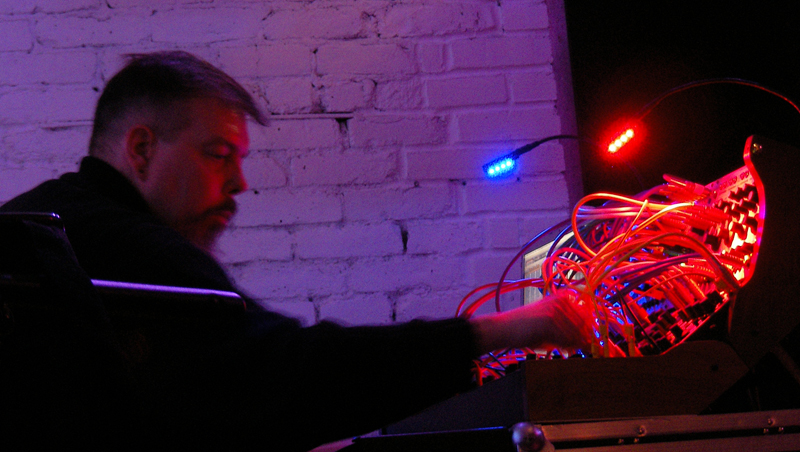 Richard at the Buchla
Screen Res
Print Res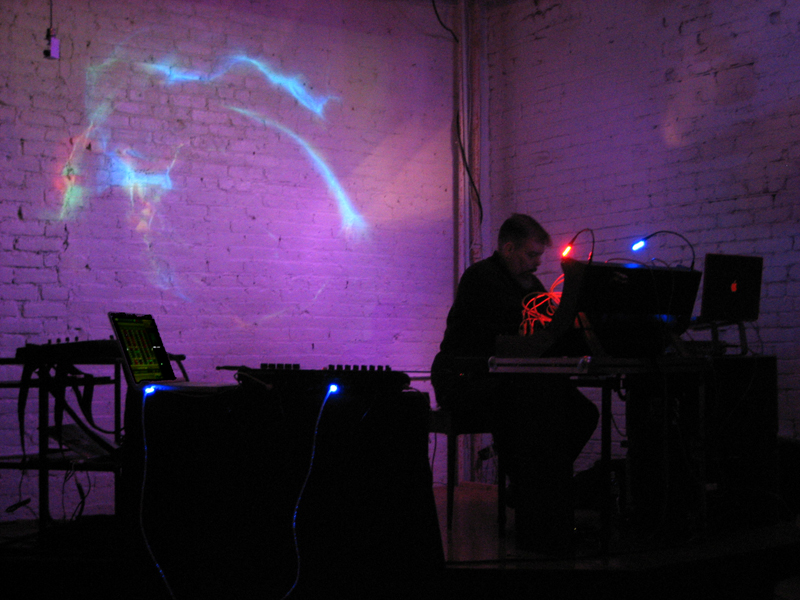 Performing at Transducer
Lemurplex, Brooklyn, NY -- November 2007
Screen Res
Print Res
Photo: Seth Elgart
---